Houston, Texas
Houston is a beautiful city, and there are many great places to get engagement photos taken. There are also a lot of great places to get photos taken for other occasions as well. The following is my list of the top five places in Houston that I think would make excellent locations for engagement photos:
Historic Hermann Park
Hermann Park is a large and beautiful green space in Houston that has plenty of photogenic spots. Hermann Park is home to many gorgeous trees, colorful flowers, a lush landscape and botanical gardens. There are also many different kinds of wildlife to be found there including turtles, birds and squirrels.
If you love taking pictures with the Houston skyline in the background then this is the perfect place for you! The park has multiple bridges which cross over Buffalo Bayou allowing for views of downtown Houston from above that are stunning!
Sugar Land Town Square
The Sugar Land Town Square is the perfect place to take your engagement photos. The park features plenty of beautiful plant life and a fountain, which makes it a great backdrop for you and your partner's photos. There are also many restaurants nearby, so make sure you get some good food before or after your shoot!
There are several parking garages around the area, but be aware that they charge a fee (some even have validation available). If you cannot find parking near the square itself, consider using one of those garages instead of driving around aimlessly looking for something closer.
The best part about this location is that there are tons of photo spots within walking distance from one another—you can walk from one end of town square all the way to another without ever leaving its boundaries! Be sure not to miss out on these amazing places:
Central Park
City Hall
Library Building
Bay Area Park
Bay Area Park is a great place to take engagement photos. The park itself has a lot of different scenery. There are scenic views, beautiful trees, and even a lake. The park is also located in one of the best parts of town. You can easily get there by car or using public transportation so it's convenient if you're coming from out of town!
Gerald D. Hines Waterwall Park
The Gerald D. Hines Waterwall Park is a unique location that offers a quiet and serene atmosphere, perfect for taking engagement photos in Houston. This park has many beautiful areas to shoot, like the water wall itself and gardens nearby. In addition to taking photos here during the daytime, it's also possible to shoot at night when the lights illuminate throughout all of downtown!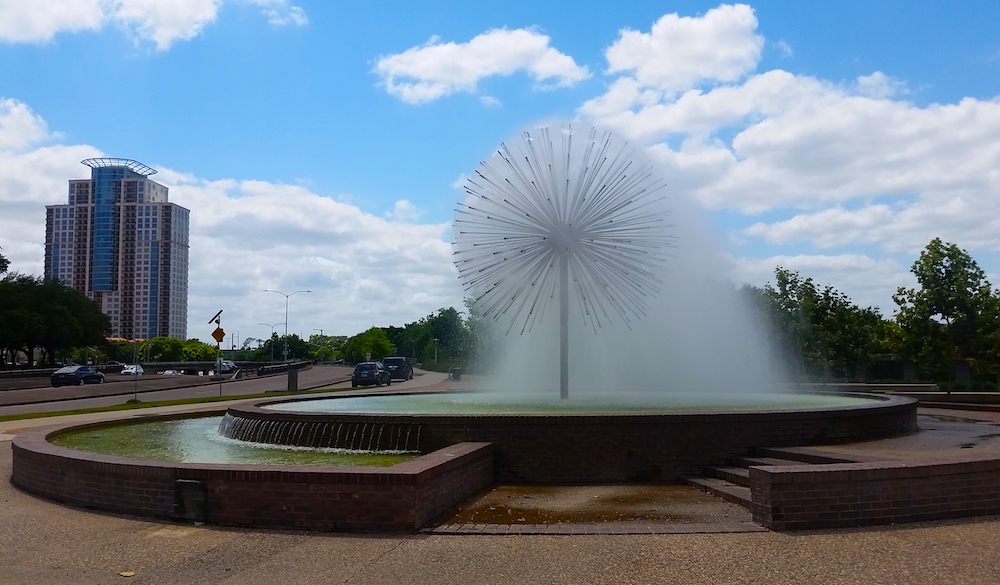 The Dandelion Fountain
You might already know that Houston is one of the best places to take engagement photos, but did you know that there are a variety of spots around town where you can capture some stunning shots? If you're looking for a new place to shoot your next set of photos, we recommend checking out The Dandelion Fountain in downtown Houston. This public art installation makes for an excellent backdrop and has become one of our favorite places to shoot.
The Dandelion Fountain is located in Sam Houston Park near Discovery Green Park and Buffalo Bayou Park. This means that it's easily accessible by car or public transportation, like METRO bus route #1 (which runs along Fannin Street). We recommend visiting during the day because you'll be able to capture beautiful light as well as people enjoying themselves at this popular spot downtown. It's also worth noting that The Dandelion Fountain does not have any shade or cover from rain or sun so be prepared if visiting during these times!
A lot of people like to get photos taken in downtown Houston, but there are a lot of other great options around the city.
Engagement photos are a great way to capture the memories of your relationship, so it's important to choose a location that means something to you both. While many couples choose to get their engagement photos taken in downtown Houston, there are many other great locations around the city as well.
If you're looking for a more unique spot than what's offered by most photographers, why not consider one of these locations:
The Galleria—This is one of my favorite spots! It's beautiful during the day and night time, with lots of high-end shopping available if you want it. There are also many different places on each floor where you can take pictures without having anyone walking through them while they're being taken.
Hermann Park—This park has tons of green space with trees and ponds throughout it; there are also plenty of paths with less traffic than some other parks have so it's easy for people passing by not to be bothered by what we're doing there!
Museum District MRT Station—The station itself isn't usually open late into the night but this area has lots of restaurants nearby which makes finding food easy once our session wraps up too."
Whether you're planning a small city wedding or an extravagant destination celebration, we hope you found something here that resonates with your own vision. There are so many beautiful places to get engaged in Houston, and we can't wait to see where yours takes you.