Houston's Top Wedding Venues
Houston, Texas is one of the most popular cities in the United States. It's home to some of America's greatest landmarks and attractions, including The Galleria, Downtown Aquarium and Space Center Houston. If you're planning a wedding there or simply looking for a place to host a special event, we've put together this list of 20 top venues. These locations offer everything from ballrooms to outdoor gardens where couples can say their vows under the sun or stars with their closest friends and family by their side.
The Astorian
The Astorian is a historic venue with a classic charm. It is one of the most popular wedding venues in Houston and offers couples a variety of options for their big day.
The Astorian first opened its doors in 1926 as an apartment building that was built in the Egyptian Revival style. Since then it has been remodeled many times but still retains much of its original character today. The ballroom at this Houston wedding venue can accommodate up to 250 guests, making it ideal for larger weddings or receptions.
If you're looking for an upscale setting with modern amenities and exceptional service, The Astorian will make your dream come true!

https://www.astorianevents.com/
The Houstonian Hotel
The Houstonian Hotel is a luxury hotel in the Galleria area of Houston. The hotel has multiple wedding venues, including the ballroom. The ballroom can host weddings with up to 300 guests and includes an adjacent patio where you can say your vows outside under the sky or under a large tent if the weather is inclement.
The Houstonian also has many other wedding venues: The Rooftop Bar & Pool offers a stunning view of downtown Houston at night; Parkview Terrace is located on top of the hotel and features views of Memorial Park; Heritage Garden features ornate arches and elegant landscaping; West Tower Ballrooms are located on floors 2 through 5, but not all hold receptions due to their smaller size.
Also available for weddings at the Houstonian Hotel are fitness center, spa services (like massages), and more!
https://www.houstonian.com/
Ashton Gardens
Ashton Gardens is a Houston wedding venue. This beautiful garden and home offers an impressive ballroom, as well as an outdoor ceremony area. Ashton Gardens has become one of the most sought-after venues for weddings in the Houston area because it combines nature with elegance—and its unique location makes it a great choice for couples who want something different from the norm. If you're looking for a place that looks like it came straight out of Pinterest but also offers great service, this is your spot!
https://waltersweddingestates.com/
CityCentre – Blvd Place
If you want to get married in the heart of Houston's downtown, CityCentre – Boulevard Place is a great venue.
Located on the corner of McKinney and Dallas streets, this venue offers both indoor and outdoor spaces for your ceremony and reception. With a wide range of amenities, including a full-service kitchen, two ballrooms and three bridal suites (one with its own bathroom), there are many different ways for you to customize your big day at this venue.
The price ranges from $600 to $1,400 per guest depending on the package chosen. For more information or to schedule an appointment for an event consultation with their wedding specialist contact them at 281-726-5656 or email weddings@citycentremallhouston.com
Hotel ZaZa
Hotel ZaZa offers a range of wedding packages, including a Grand Wedding Package that includes everything from catering and decorations to day-of coordination. Each package starts at $25,000, though you can customize it depending on your needs. The hotel is located in the River Oaks area, just north of downtown Houston and next to the Museum District. They have several indoor venues available for outdoor events like weddings: the Cactus Courtyard has views of downtown Houston's skyline; Main Street Hall seats 250 guests; The Terrace Room seats up to 120 people; The Waterwall Pavilion can accommodate up to 200 guests; and The Lily Pond has an outdoor garden setting with an indoor reception hall that holds 150 people (as well as 50 additional standing). There are also ballrooms available for larger groups: the Executive Boardroom holds 75 people seated or 100 standing; Salon del Rey holds 300 guests seated or 400 standing; Salon de Amor holds 350 guests seated or 500 standing.
Venues with views of downtown Houston's skyline are rare—the Hotel ZaZa's Cactus Courtyard is one such venue
The Bell Tower on 34th
The Bell Tower on 34th is a Houston wedding venue that offers contemporary elegance, state-of-the-art technology and personalized service in the heart of Houston's Uptown District. The Tower specializes in hosting weddings, parties and corporate events for guests of all ages.
The building has been transformed into an elegant event space with its original architecture preserved. The lower level boasts rustic brick walls and exposed timber columns which are accentuated by modern touches such as chandeliers and glass accents.
The versatility of this beautiful space makes it perfect for any celebration: from intimate get togethers to lavish social occasions, we have everything you need to create your perfect event or party! https://thebelltoweron34th.com/
Houston Country Club
Houston Country Club is a venue that provides an intimate setting for your wedding. It's located in the heart of Houston, Texas and has a capacity of 300 guests. This venue offers stunning views of the golf course and city skyline as well as indoor and outdoor spaces to accommodate your needs. Houston Country Club also features on-site catering options, valet parking service, free Wi-Fi Internet access throughout the property, an outdoor ceremony area overlooking the golf course or pool area (weather permitting), and much more!
All Saints Catholic Church
All Saints Catholic Church offers the most affordable wedding venues in Houston, Texas. Located on Beltway 8, this historic church has been the site of many weddings since its construction in 1924. The church has a capacity of 250 people and can accommodate up to 150 guests for a reception. A beautiful stained-glass window adorns one side of the sanctuary while an altar sits at its center. Surrounding these two features are wooden pews that are available only for use during special events like weddings or funerals. The church also has access to additional rooms for catering services, as well as outdoor patios where couples can say their vows under gazebos or near oak trees (weather permitting). https://allsaintsheights.com/
The Corinthian Houston
The Corinthian, located in the heart of Houston, is one of the most popular wedding venues in Texas. This luxury hotel has a beautiful ballroom with a crystal chandelier and Italian marble floors that can accommodate up to 400 guests.
The Corinthian offers wedding packages that include your ceremony site rental fee, food & beverage minimums (with certain restrictions), complimentary room blocks and more. If you're looking for an elaborate reception setup with plenty of options for catering, this venue will definitely fit your needs. In addition to their spacious ballroom and other event spaces like Crystal Gardens or The Stables at White Oak Bayou Park nearby they also have 10 different restaurants on site including: Churrascos Latin Fusion Restaurant & Bar; Charro Steakhouse; Citrus Bistro Bar; Fogo de Chao Brazilian Steakhouse; Il Sogno Ristorante Italiano; La Griglia Prime Steakhouse & Wine Bar; Saltgrass Steak House – Historic Katy District location; The Mansion – Uptown Park location's wine cellar called "Le Caveau"; Moonshine Patio Bar & Grill – River Oaks District location; One Fifth Romance Languages Restaurant – Montrose District location with its bar called "Hobby Horse" serving craft cocktails made from locally sourced ingredients like cactus berries or elderflower liqueur while they prepare your meal according to "French-Japanese fusion food" recipes developed by chef Chris Shepherd after attending culinary school in Paris – he even named one dish after himself which includes charred octopus tentacles mixed together with crispy pork belly served atop black garlic brown butter soba noodles topped off with truffle soy sauce
They offer plenty of amenities such as valet parking service available 24 hours a day 7 days per week along Westheimer Rd near Post Oak Blvd across from Memorial City Mall just east side (off) 610 Loop Westbound Frontage Road Service Road entrance onto westbound 610 Loop frontage road between Wirt https://corinthianhouston.net/
Chateau Cocomar
Chateau Cocomar is located in the Galleria area of Houston, TX. The venue has a long and beautiful history and is located on sites that were once used for oil wells and railroad lines. After purchasing the property, it was transformed into a ballroom for society parties. Today it's still an excellent place to host your wedding celebration with its classic design features including marble floors, gold accents, crystal chandeliers and ornate columns.
The package includes two nights of lodging at The Ritz-Carlton (for you and your spouse or significant other) at no additional cost! In addition to providing accommodations for you both while attending your wedding festivities they also offer free valet parking during your stay so you won't have to worry about driving through downtown traffic if you're staying out late after having fun all night long before heading back home after midnight on Saturday morning."
Royal Sonesta Houston Galleria
Royal Sonesta Houston Galleria
6002 Westheimer Rd. Houston, TX 77057
(713) 623-1300
The Royal Sonesta Houston Galleria has everything you could want for your wedding venue. The location is arguably one of the most beautiful in all of Texas and has a reputation for being one of the most elegant and well-kept options available. This hotel offers several different options for ceremonies, receptions, or even just an intimate getaway for two. It can accommodate groups up to 350 people with ease, so whether it's a large wedding or small gathering it will be sure to leave everyone satisfied with their experience at this venue. The rooms are spacious enough to comfortably accommodate any size party but still have plenty of charm thanks to the elegant decor and amenities like king beds and jacuzzi tubs!
This venue also has some great dining options if food isn't provided by another company such as El Mundo Restaurant & Tequilas Bar which serves traditional Mexican dishes alongside unique cocktails made by expert bartenders who have won awards in their field! They also offer catering services so that guests can enjoy delicious meals while they celebrate with friends & family members during this special occasion!
The Westin Galleria & Westin Oaks Houston at the Galleria
The Westin Galleria & Westin Oaks Houston at the Galleria is a convention center and hotel located in the heart of Houston, Texas. The venue offers wedding packages for all budgets and includes a variety of wedding reception space options. If you're looking to get married outdoors, there's an outdoor terrace that overlooks Memorial Park. The indoor spaces include large ballrooms with chandeliers, marble floors, and modern decor. There's also a chapel available for wedding ceremonies as well as a separate bridal suite so your bride can get ready before walking down the aisle! Photography and videography services are available by request.
Briar Club
The Briar Club is a luxury wedding venue in Houston, Texas. The venue has a beautiful garden and courtyard where you can photograph your bridal party, as well as an elegant ballroom for your reception. If you want to get married on-site, this venue is perfect! It's located in the city of Houston and can accommodate up to 230 guests.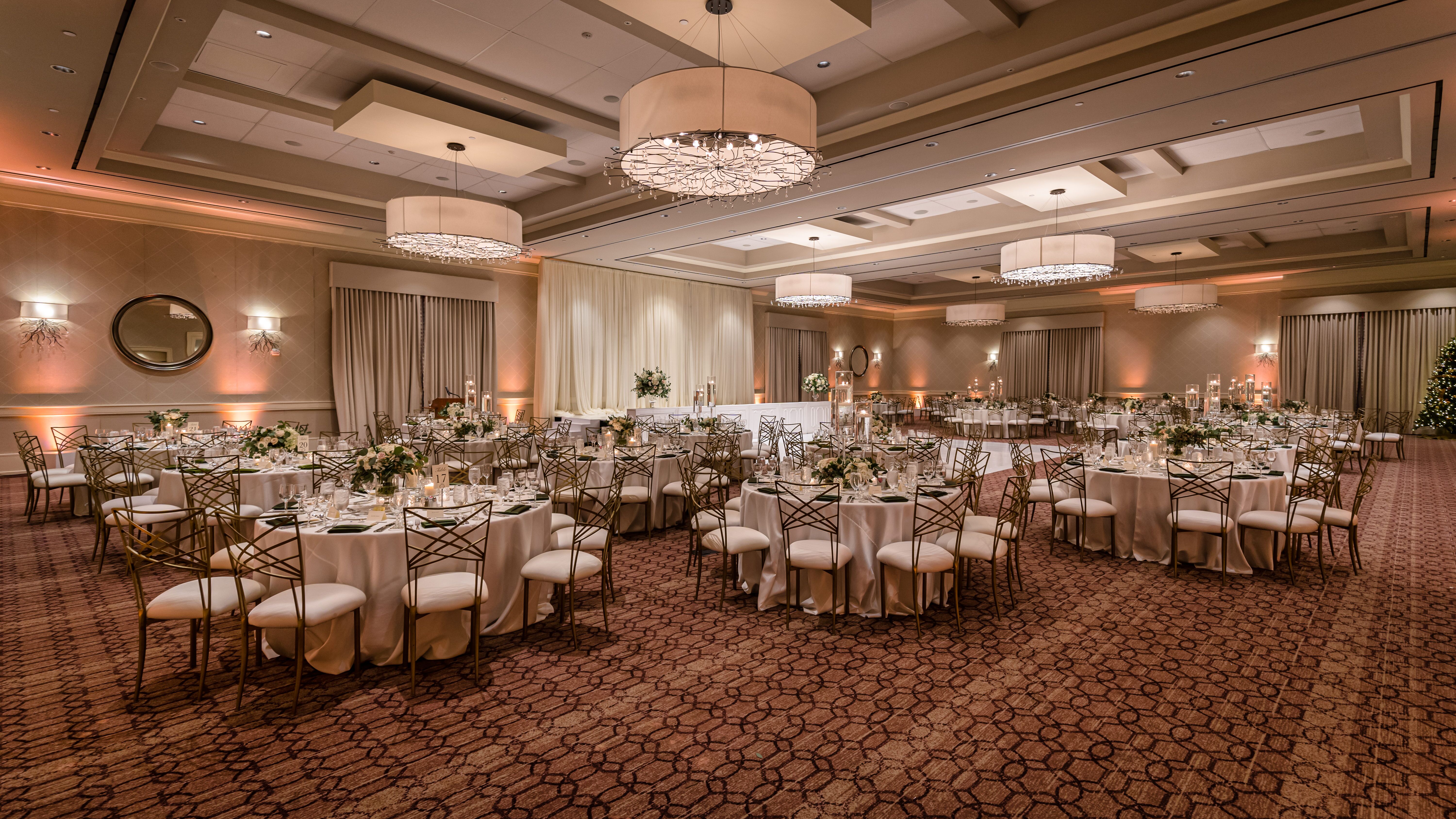 Hilton Americas – Houston Downtown Hotel and Convention Center
Hilton Americas – Houston Downtown Hotel and Convention Center
Address: 1600 Lamar Street, Houston, TX 77010
Phone: (713) 739-8000
Total rooms: 1,500+ (including suites)
Parking: Valet parking available for $40 per day or self parking for $29 per day. There are also several public parking garages nearby.
Amenities: Fitness center, pool with cabanas and private cabanas available on request as well as an outdoor patio area with fire pits. There is also a 24 hour business center with computers and printers available to guests 24 hours a day. The hotel has three restaurants inside it including one called STIRR which serves breakfast through lunch along with dinner on Friday evenings until midnight! They have other restaurants open in their lobby area like Starbucks Coffee bar where you can grab some coffee before heading out on your morning adventure! On top of all this there are meeting spaces available from 10-6 p.m., Monday through Thursday; 9 a.m.-4 p., Friday through Sunday plus an additional 6 hour block during the week beginning at 6 p., Monday through Thursday.. These rooms range anywhere from 10 people up to 500 depending upon what size room you need for your event."
Omni Houston Hotel at Westside
The Omni Houston Hotel at Westside is located in westside, Texas.
It has a ballroom and a restaurant.
There is also a bar, spa, fitness center and pool available to guests.
Crystal Ballroom At Villa Siena
Crystal Ballroom at Villa Siena is a beautiful venue for weddings, rehearsal dinners and other events. This historic location features a grand ballroom with breathtaking chandeliers, large mirrors and French doors that open to an outdoor patio area. The space is well-suited for hosting more than 100 guests if you opt to not use the patio area as additional seating.
The space is available on Friday evenings starting at $1,200 through Sunday afternoon rentals at $1,500 per day plus 20% service charge and tax. There is an additional charge based on vendor uses (catering, DJ services). You must provide your own alcohol unless you hire them as your caterer or go through their preferred list of vendors who can bring their own liquor license into the venue such as Abundant Life Catering & Events or Signature Catering & Design.
The Grove at Discovery Green
Located in the heart of downtown Houston, this venue is a beautiful location for your wedding. It has several different options for your ceremony and reception including an indoor or outdoor space. The Grove has a beautiful patio area that overlooks Discovery Green Park and their terrace level is perfect for cocktail hour. The terrace level also has an 80' long bar, so you can have guests mingle while enjoying drinks before dinner begins at 7:00pm
https://www.thegrovehouston.com/
Rosewood Mansion on Turtle Creek
Rosewood Mansion on Turtle Creek is located in Downtown Dallas, Texas just minutes away from any major airport or highway. This historic hotel offers magnificent views of downtown Dallas from its two-story ballroom overlooking Turtle Creek with floor-to-ceiling windows overlooking one of Texas' most elegant hotels – The Four Seasons Hotel (Dallas).
https://www.rosewoodhotels.com/
These venues will make your big day special.
We hope you have enjoyed our list of the top 20 wedding venues in Houston. If you are looking for a venue that is unique, you will surely find one here.
Written by: Natasha Miley http://Shutterupphotographer.com